The Tuol Sleng Genocide Museum is one of the most prominent "tourist attractions" of Phnom Penh. I use the term loosely as although it does attract a lot of visitors, it is not a light-hearted place by any means. Cambodia has a colourful and rich history which seems to have been overshadowed by the actions of the Khmer Rouge between 1976 and 1979. The recent history affected the population and indeed the world immensely; but it is good to see that the locals have bounced back and remain positive about a glowing future.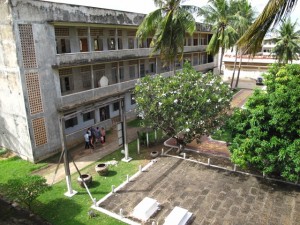 The museum is sometimes known simply as the Tuol Sleng Museum or S-21 (short for Security Prison 21). The building was a school before it was used as a detention and torture centre by the Khmer Rouge during the late 1970s. Indeed, the clue is in the name as Tuol Sleng in the Khmer language means "Hill of the poisonous trees". Perhaps the most disturbing thing is the fact that there are disused swings and monkey bars still clearly visible, reminding you that this used to be a place of education, not slaughter.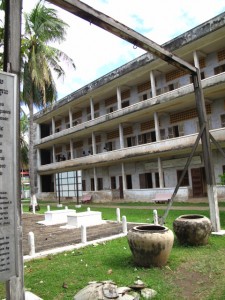 If you decide to visit this museum, you will see that it is a sombre place but this should not put you off visiting it at all. There are four buildings altogether that make up the museum and it will take a good few hours to navigate your way around all of them. Visitors will be able to see many photographs of prisoners held there; there were over 6,000 photographs left after the Khmer Rouge fled the site. There are many exhibits including instruments of torture that were used, some of which quite poignantly, still have flecks of blood on them. You will be able to see the small former classrooms that were converted into cells to hold the prisoners.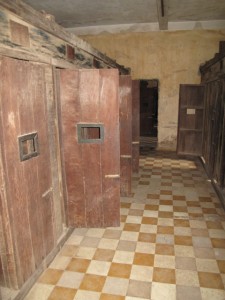 There is also a documentary video available but this is not always playing. If you would like to view this video it is best to ask at the reception desk at what times it will be showing. Visitors to the Tuol Sleng Museum are allowed to take photographs; the only real request that they have is that you keep as quiet as possible.
This may be one of the reasons that it is best not to take children (particularly younger ones) to the museum. The exhibits can be quite distressing as some on display depict real acts of torture, which may not be suitable for younger eyes.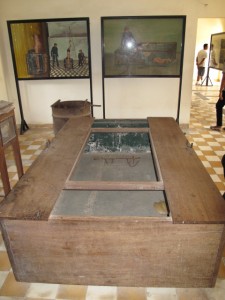 The museum is likely to bring a tear to your own eye and you may become quite emotional from the whole experience. If nothing else, it will make you appreciate the life that you have and how well the Cambodian people have coped with the trauma that they faced during this difficult time in their history.
If you feel that you would like to learn more about the recent troubles of the Cambodian people, then the Tuol Sleng Genocide Museum is definitely a must-see destination. The museum is open from 8am until 11am and then 2pm until 5pm everyday (except Mondays). It costs US$2 to visit and is easily accessible from all other areas of the city. You can choose to arrive on foot, by taxi, rental car, moto or tuk-tuk.