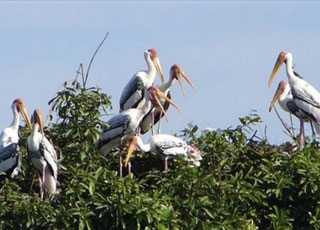 Boat trip to Prek Toal takes about two hours from Chong Kneas boat dock, upon arrival meet Prek Toal Environmental Research Station for guiding tour to birds sanctuary. The Research Station has information on the area's flora and fauna. There are also basic overnight accommodations at the Research Station if you want to stay the night to take full advantage of the sunset and early morning viewing hours. The entrance free for birds watching for two persons cost 25$ each, 3 pax up cost 20$ per person including
boat guided tour to birds sanctuary. Your entrance fee expense use to help promote responsible tourism in Cambodia, and contributes to the conservation of the area especially educate children, villagers about the importance of the birds and the unique flooded forest environment, all your expenses go through to local communities The 'bird sanctuary' at the Prek Toal core area of the Tonle Sap Biosphere Reserve has been called "the single most important breeding ground in Southeast Asia for globally threatened large water birds.
The Biosphere covers 31,282 hectares at the northwest tip of the Tonle Sap Lake and plays host to species including Greater and Lesser Adjuncts, Black-headed Ibis, Painted Stork, Milky Stork, Spot-billed Pelican, Grey-Headed Fish Eagle and many more species. Of the three Biosphere core areas on the Tonle Sap Lake, Prek Toal is the most popular with birdwatchers. The best time to explore is the dry season between December to May when flocks of migratory birds congregate at Prek Toal. While the dry season progresses and the water recedes, the number of birds increase, but the tour to some of the more important viewing areas becomes more difficult. That's why requires to rent a small motorboat drives a long the stream for one hour to birds tower.